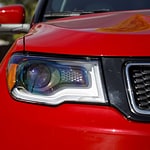 With the ability to obtain 31 highway mpg, the Jeep Compass combines fuel efficiency with the powerful capability features our customers in Hazard expect from the brand. The Compass boosts 180 horsepower and a towing capability of 2,000 pounds, making the vehicle one we recommend at Tim Short Chrysler LLC to customers looking for a reliable work vehicle.
We also recommend the Compass if you are planning on taking the vehicle off-road. Two major worries for off-road adventures are ground clearance and water. The Compass has a high ground clearance that allows you to proceed over the roughest terrain with confidence, as well as high air intakes and advanced water sealing.
Are you planning on hauling trailers during adverse weather conditions? Or perhaps you want to go off-road on snow-covered mountains. With weather-related capabilities such as rain-sensing wipers, windshield de-icer and exterior mirrors that heat, you will be able to take the vehicle into any type of weather condition.