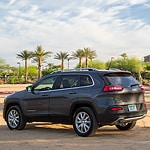 The Jeep Cherokee has long been a favorite of customers. The Cherokee is an iconic model of the Jeep brand. With good reason, this makes the 2020 Jeep Cherokees one of the most popular compact SUVs on the market. In addition to receiving a complete cosmetic makeover in recent years, the 2020 Jeep Cherokee also has undeniably powerful capability features.
Bring Along Whatever You Need, Whenever You Need It

The new 2020 Jeep Cherokee has an available 3.2L Pentastar V6 engine. This option not only gives the Cherokee power on the road, but the strength to tow. When equipped with this option the Cherokee can haul a whopping 4,500 pounds.

Never Turn Down Adventure

The 2020 Jeep Cherokee is designed to handle nearly any adventure or road condition. Whether it is slippery roads, rough terrain, or unforeseen road conditions the Cherokee is designed to shine. Jeep Active Drive consistently monitors slipping and will automatically activate four-wheel-drive when necessary.
Find Your Perfect Match Today

? Visit our team at Tim Short Chrysler LLC today to test drive this amazing machine. The 2020 Jeep Cherokee is a perfect fit for nearly any Hazard driver. Why wait? Let us help you find your perfect 2020 Jeep Cherokee today.