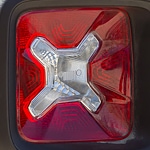 If you want to enjoy an open-air experience on your next drive, then head down to Tim Short Chrysler LLC so we can introduce you to one of the most popular subcompact SUVs. The Jeep Renegade has several customizable options that can either refine your ride or make it fully capable of handling all of your rugged driving adventures.
The Jeep Renegade was designed to stand apart from the crowd for all the right reasons. Two panoramic sunroof options allow all passengers in the vehicle to enjoy an optimal view of the surroundings while also providing a custom open-air experience. Use the MY SKY power removable sunroof to take the two panes away for the most air, or the standard dual-pane sunroof that opens with the touch of a button. Illuminate the road ahead with standard LED lights that shine brightly from your headlamps, taillamps, and even the day running lamps.
Visit our sales team to take the Jeep Renegade around Hazard for a test drive and discover all the features you've been missing.