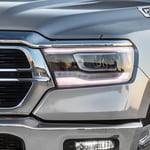 Which light-duty pickup truck is right for you? There's a good chance that the Ram 1500 will fit the bill. The popularity of this vehicle continues to expand because of its capabilities.
Advanced Airbag Technology

Airbags are clearly beneficial when an accident occurs. The airbags in the Ram 1500 are advanced and adapt to accommodate the circumstances. This includes adjusting in response to the crash severity and occupant size.

Forward Collision Warning

? Forward Collision Warning works collaboratively with Automatic Emergency Braking in the Ram 1500 to mitigate a frontal impact. The driver receives alerts when a collision is about to occur.
These safety features are just the beginning when it comes to reasons why the Ram 1500 is such an amazing pickup truck. Are you ready to visit Tim Short Chrysler LLC here in Hazard for a test drive? It's time to get behind the wheel of a Ram 1500.